The exponential growth of the NFT space has even the most skeptical investors showing interest in this market. In tandem with this rising enthusiasm, demand for the best NFT tools also seems to be on the rise as investors try to find the next best non-fungible asset available.
When it comes to getting the most bang for your buck in a collector's market, rarity is paramount. If you want to make a profit, it's imperative that you follow the trends in NFTs. Sniping NFTs involves buying NFTs priced below their value because the seller doesn't know they are rare. Fortunately, rarity tools, often called rarity sniper tools, exist to help you do this.
This article will introduce you to the concept of NFT rarity and present some of the best NFT tools currently available. Let's get started.
What is NFT rarity?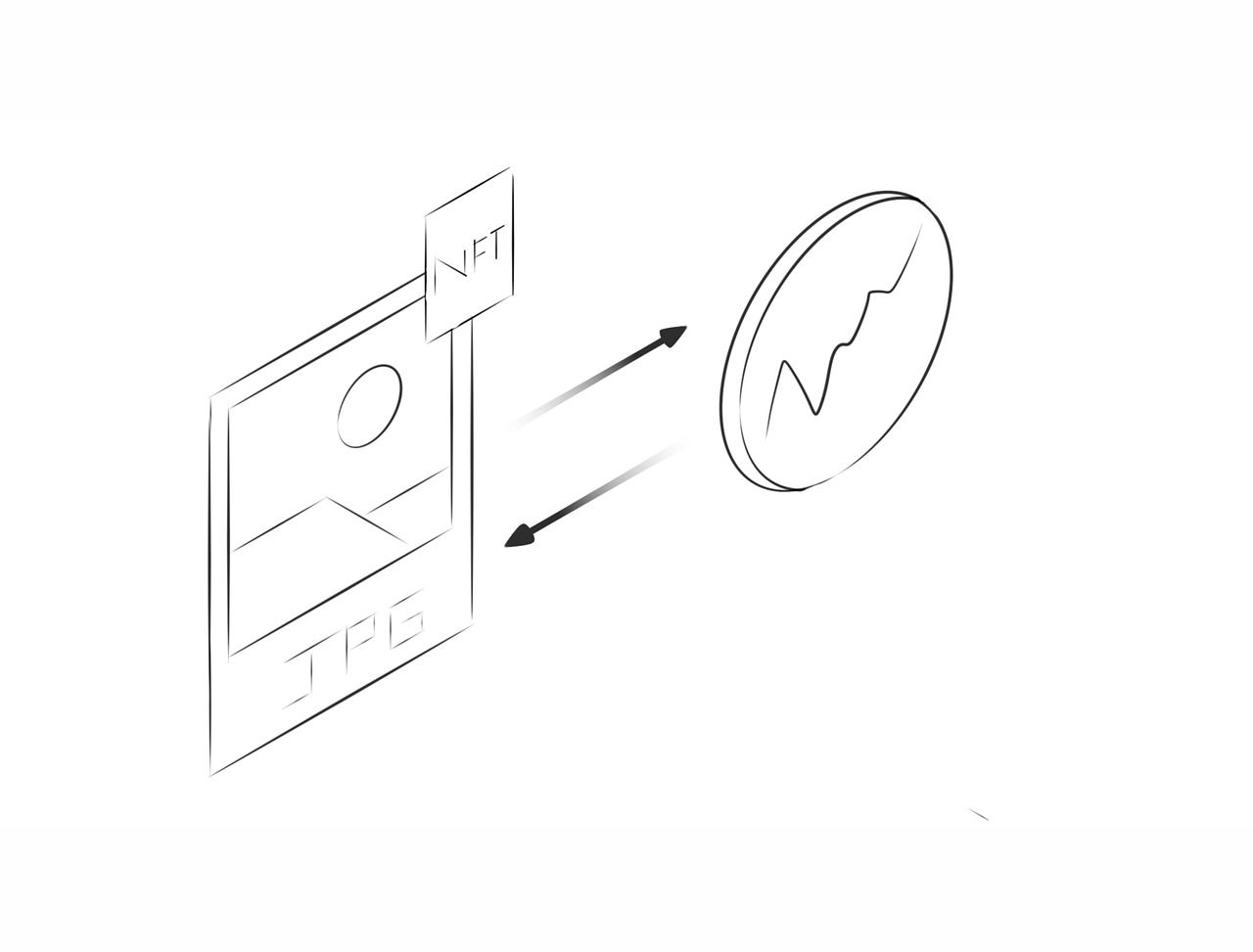 Rarity is the unique characteristic of an NFT that sets it apart from the crowd. Rarity is a measure of how unique your NFT is. If an NFT is both special and popular, it has a high rarity.
The rarity of NFTs is one of the most important factors crypto enthusiasts look at when they want to buy or sell NFTs. Rarity is the most important factor that drives up the price of an NFT.
Find out What are the NFT Photography Marketplaces?
NFT rarity calculation methods
The rarity of an NFT can be calculated using a variety of methods. One can calculate the rarity of an NFT feature based on the rarest feature, determine the average rarity of features, or examine rarity statistics.
Ranking the rarity of NFT features: To compare NFTs, one can simply compare the rarest attribute of each non-fungible token. However, despite its simplicity and straightforwardness, this approach has a key drawback: it ignores the overall rarity of NFTs and focuses only on the rarest trait.

Average trait rarity: Another method for checking the rarity of NFTs is to average the rarity of the features present on the NFT. If an NFT has two features, one with a rarity of 50% and one with a rarity of 10%, then the average rarity of the feature would be (50+10)/2 = 30%. The problem with this method is that it emphasizes the overall rarity of each feature, which means that the single super rare NFT feature does not get enough feature value and the general rarity value is diluted.

Statistical Rarity: In this method, all the features of an NFT are multiplied together to determine the overall rarity of the NFT. If an NFT has two characteristics, one characteristic has a weight of 10% and the other has a weight of 50%. This NFT would then have a "statistical rarity" of 5% (10% * 50%).
These three approaches lead to different results when comparing the rarity of some NFTs. Average rarity and statistical rarity tend to overstate many of the traits in an NFT, which can dilute the value of an extremely rare, unique trait. Trait Rarity faces the exact opposite problem by limiting the calculation to the single rare trait. One solution? Rarity Score.
How to calculate the rarity of NFTs.
The value and rarity of NFTs vary, even if you have thousands of them in a single collection. Therefore, a decrease in supply leads to an increase in demand, which drives up NFT prices. Nevertheless, supply value is not the only factor contributing to NFT rarity.
To calculate NFT rarity, you can use a variety of methods, as mentioned earlier. Various parameters, such as rarity based on the rarest feature, are considered by statistically evaluating all NFT features or by calculating the average rarity. Therefore, a rarity score is used to calculate the rarity of an NFT. Rarity score calculation does not have to be done manually, as various rarity tools can do it for you. With the right NFT rarity tool, you can view the results with just a few clicks.
The Rarity Score highlights individual rare features, but also includes the overall rarity of features in its calculation. To date, this is by far the best method for calculating rarity.
The Formula
[Rarity Score for a Trait Value] = 1 / ([Number of Items with that Trait Value] / [Total Number of Items in Collection])
Discover What is NFT farming?
3 NFT Rarity Ranking Tools
The formula is quite simple, but it doesn't make sense to calculate the rarity of all the NFTs you want yourself. There are several investment tools that can help you do this.
Investing in NFTs involves a lot of risks. With a reliable NFT investment tool, you can check the rarity of NFTs and effortlessly keep track of the changes. Of course, these tools should not be used as the sole criteria for buying NFTs. Make sure you research the NFT market and the project in question well before making a purchase.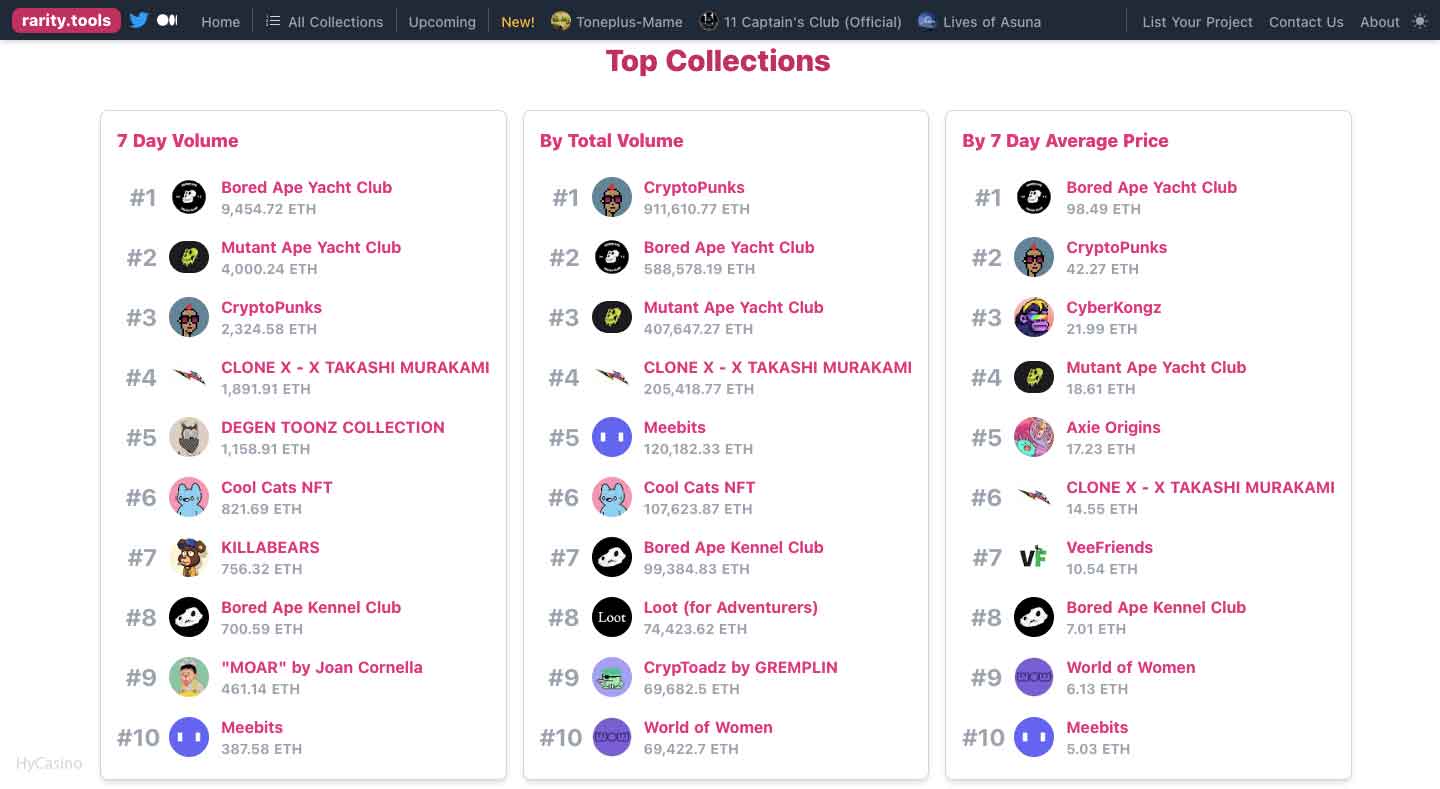 One of the most popular tools for determining the rarity of an NFT is Rarity.tools. NFTs are ranked in real time according to the rarity of their characteristics. By filtering by average price, total sales volume, number of owners or top collections, you can find NFTs that meet the criteria you are looking for. Apart from that, the website has a simple and attractive user interface that makes it easy to find feature rarities.
You can sort all NFTs on Rarity.tools by their collections, average price and even ETH volume. On the NFT collections page you can find the total rarity grades of each collection. In this section you can see a map for each NFT, which includes all its properties and rarity value. You can also check the rarity value of an NFT you own by entering its ID in the NFT Project section. After clicking "Lookup" you will see all the properties and rarity scores of your NFT.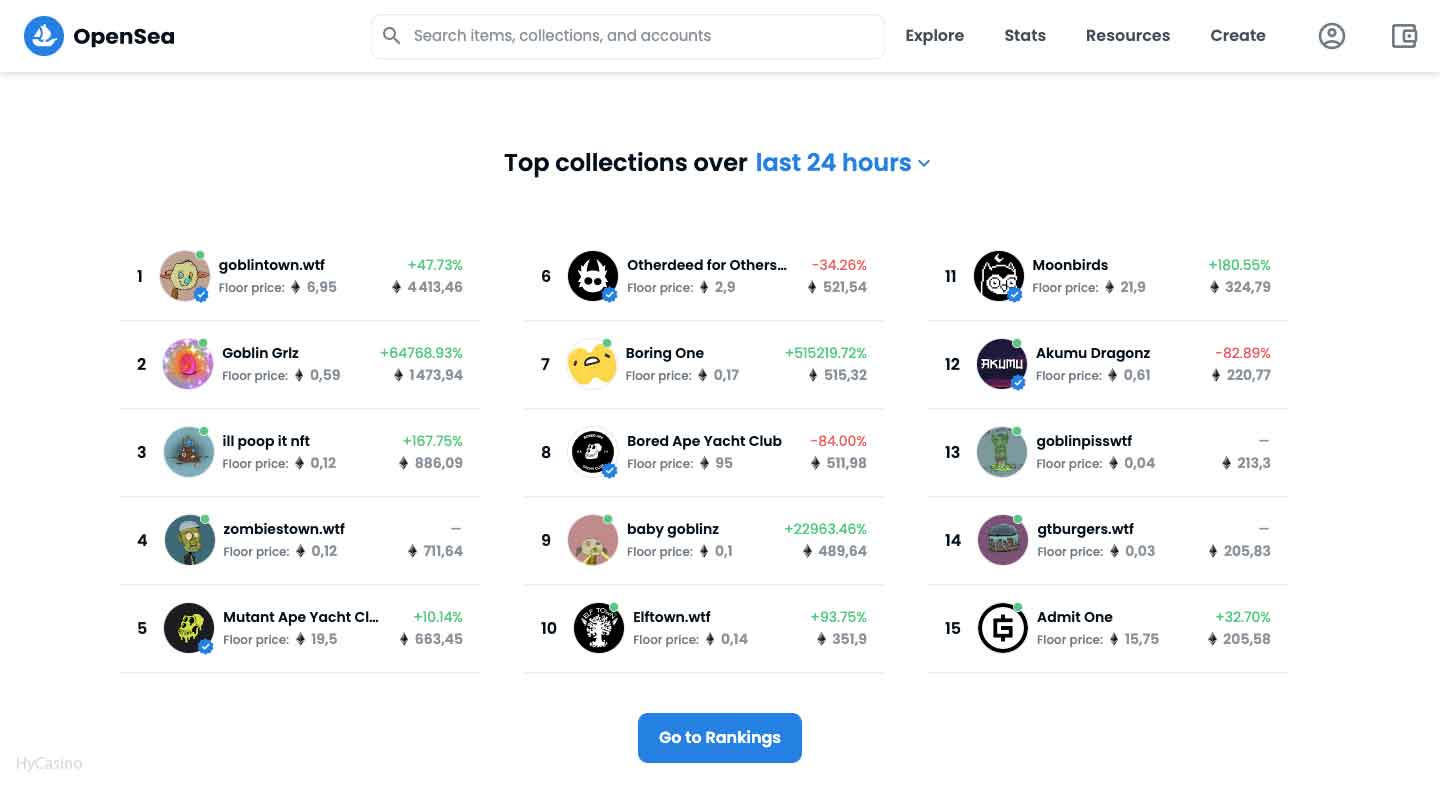 OpenSea is the largest and most popular NFT marketplace in the world. NFT sales are facilitated, as are NFT rarity rankings based on volume, floor prices, and other factors. Browse the most popular collections over any period of time. This way, you can determine which collections are trending to make an informed decision.
NFTs can be displayed by character traits and rarity, but their overall rarity rank or rarity value is not available. This is a drawback, of course, but an NFT marketplace and real-time ranking make the decision-making process easier. Using OpenSea as an NFT rarity tool is a great way to track and analyze your digital art investments.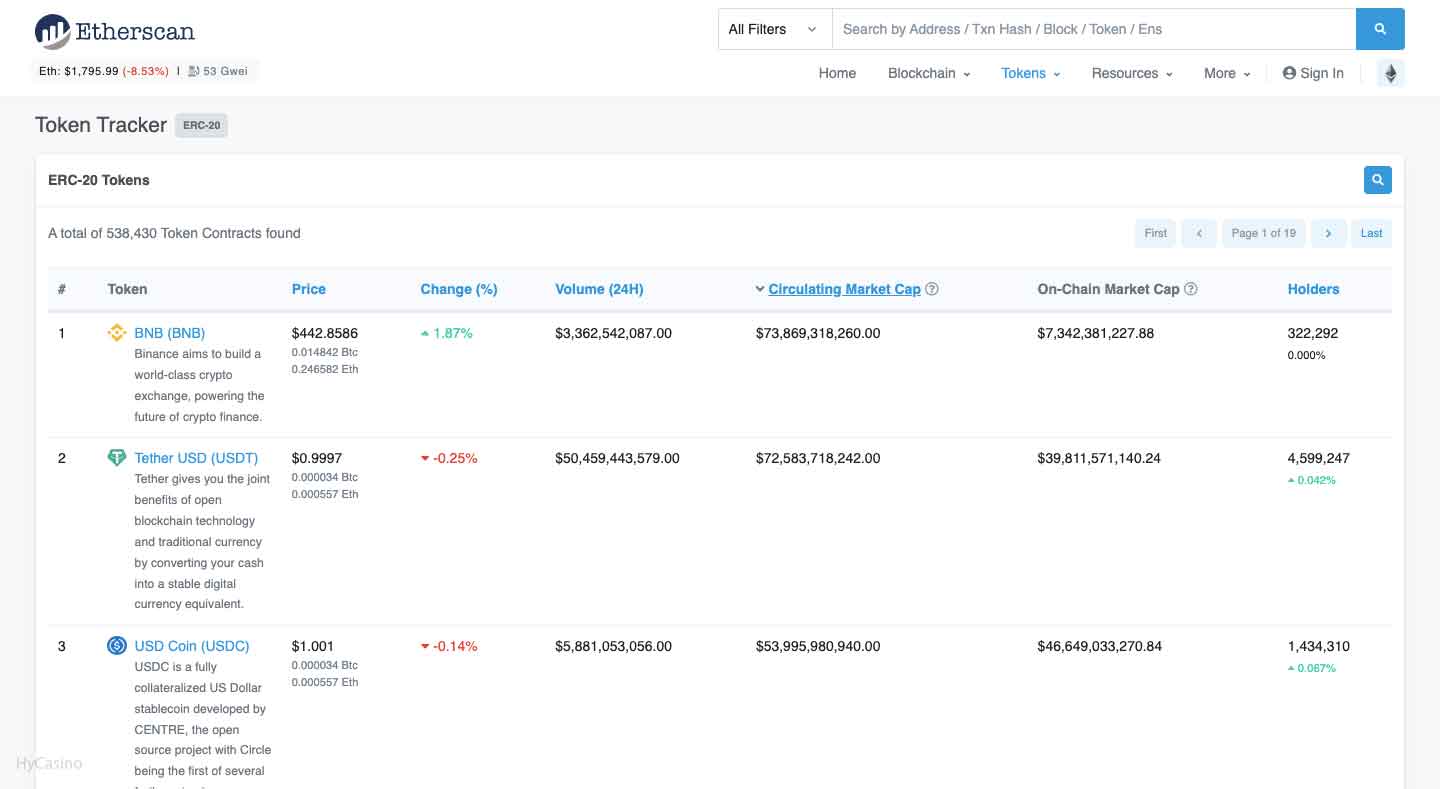 According to the developers, Etherscan is not only a block browser, but also a token tracker for all Ethereum-based coins as well as an entry point for ERC-721 token contracts. On Ethereum, NFTs are created using the ERC-721 standard, and Etherscan reports a total of 21,669 tokens that are ERC-721 compliant to date.
Recently, more functionality has been added to the NFT toolset, including information about the minting, distribution, transfer, and pricing of NFTs. Many of the applications in this article leverage the Etherscan APIs and further analyze the data to provide additional valuable insights to the user
Read also What is a blue chip NFT?