Gates Of Olympus Demo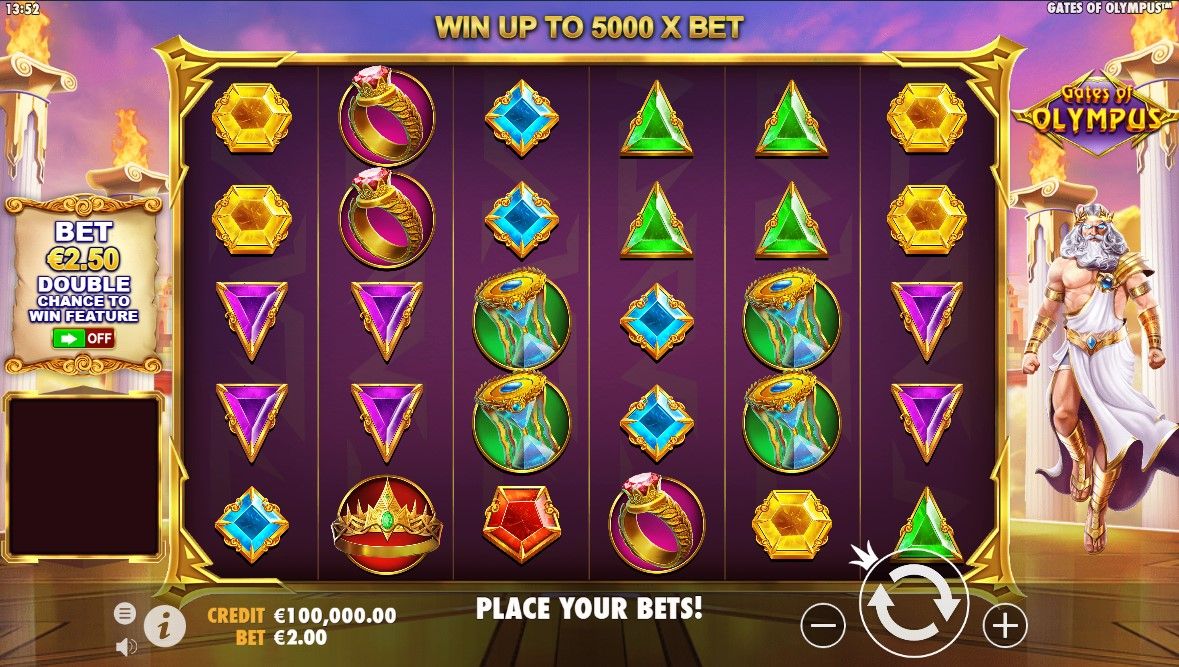 Gates of Olympus is a slot developed by the well-known studio Pragmatic Play. It was released on 13.02.2021 and became popular among slot fans because of its exciting engine and amazing artwork. This review describes all of its main features, which together with the free trial mode available on HyCasino will give you a complete idea of the experience you will get.
How are the graphics, sounds and animations?
The animation style has the aesthetics of a video game, which makes players feel like they are in a negotiation.
The color palette is filled with purple, blue and gold, which creates a great fantasy mood. Imposing white columns with flames stand on either side of the gold-framed reels.
The gems and other treasures are eye-catching symbols and fun to collect.
Zeus is dressed in a white toga and chunky gold cuffs. His bright green eyes and aggressive stance make it clear that players must impress him to get ahead.
The theme music is set to harps, bells and dark undertones. It reminds the players that although they are at a heavenly gate, they have not yet entered. Also find out how to run Sparta King here.
How does Gates Of Olympus slot work?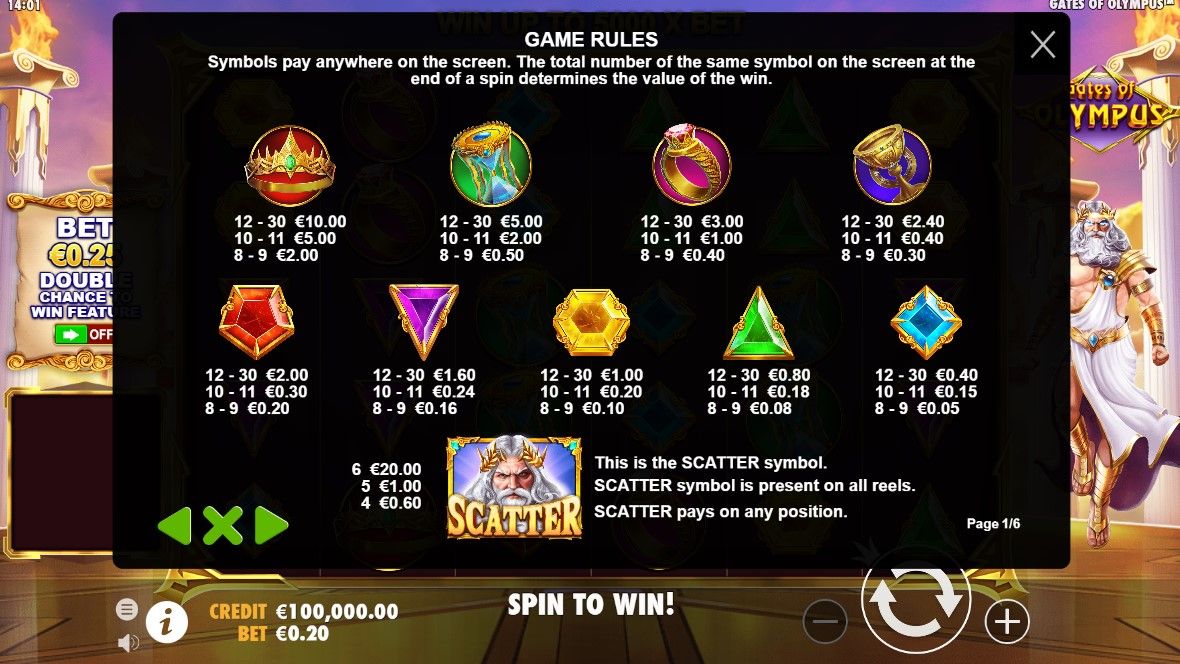 Before you start, you need to find a reliable casino that offers the Gates of Olympus slot machine. The game interface consists of six reels with 10 different symbols. You have in the first place :
The red gem with a multiplier power of 1, 1.5 and 10
The purple gem with a multiplying power of 0,8, 1,2 and 8
The yellow and green gemstone with respectively, a multiplication coefficient of 0.5, 1, 5 then 0.4, 0.9 and 4
the blue gem with a gain distribution of 0.25, 0.75 and 2.
In addition to these basic symbols, you have the premiums whose role is to increase your winnings considerably. With the chalice, your multiplier power extends to 1.5, 2 and 12 while with the ring, your bet is multiplied by 2, 5 and 15. You also have the hourglass which multiplies your bet by 2.5, 10 and 25 and the crown which offers you multiplication by 10, 25 and 50.
To get three times your bet, you need to have 4 Scatter symbols appear on the screen. For 5 symbols, you get 5 times your total bet and for 6 symbols, 100 times your bet. The game has five paylines in addition to the 20 paylines that allow you to choose the amount you want to bet. The minimum bet amount is 0.20 euro and the maximum is 100 euro. This is a figure that may vary depending on the gaming establishment you subscribe to.
You then have access to a platform located in the center of Olympus with a character representing Zeus standing ready to strike. In order to make a connection, you need to line up at least 8 identical symbols.
There is no strategy involved here. Choose the amount you want to bet, press the "start" or "bet" button and let the machine work for you. You can play as many times as you like until you win the jackpot.
What are the features of
Gates Of Olympus
?
Not all slot machines from Pragmatic Play include a large number of bonuses and features, but Gates of Olympus is one of their releases that does - and below we will describe the three bonuses and features you will find in this slot.
Multiplier Symbols:
On each spin, symbols with multipliers can appear. These multipliers range from 2 times to 500 times. When the symbols with multipliers are involved in a win, the multiplier is applied to that win at the end of the win cascade. If multiple multipliers are seen in a game, they are added together at the end of the game before being counted towards the total win.
Free Spins:
No modern video slot would be complete without a free spins bonus round. Gates of Olympus is triggered when you get three, four, five or six scatter symbols in any position. You will then receive 15 free spins as well as a payout of 3 times, 5 times or 100 times your bet, depending on how many scatter symbols are present.
The main difference in the Free Spins Bonus round - compared to the base game - is that the multipliers assigned to the symbols are applied globally. This means that you don't have to worry about which symbols drop down with multipliers; all available multipliers are applied to all winning combinations. What's more, this multiplier stays in place - it doesn't reset between spins.
Ante Bet:
Like a number of slots from Pragmatic Play, Gates of Olympus also includes an Ante Bet option. When you activate this option, your bet will increase by 25%. In return, additional scatter symbols will be added to the reels (making it easier for you to score wins). Pragmatic Play even states that the ante bet doubles your chance of reaching the bonus round - which seems pretty generous considering that it's only a 25% increase in your bet.
Conclusion
Gate of Olympus is a very pleasant game that seduces both by its policy and its interface. With its different functions, it allows all its users to increase their chances of getting a bonus and to leave with winnings. It is a very responsible game that is recommended to relax because, you will not have any strategy to put in place. On platforms like HyCasino, it gets an excellent rating of 4/5 stars from the internet users. Go to the platform now and start a free game before betting real money. You can also discover Wild West here or The Dog House Megaways here.