An overview of Reactoonz
Play`n GO is known for fun, highly animated and well-paying slots that are packed full of entertaining and rewarding features. But does the Reactoonz slot live up to all that a Play`n GO slot should be? We think so.
Let's talk about why. Reactoonz was released in October 2017, so quite some time ago in iGaming years.
The thing is, this slot has aged well. The graphics are still on point, with fun animations and sound and a 7x7 cluster pay grid that never goes out of fashion.
The RTP is 96.51% which is nicely above average with high volatility. You can't be mad at a math model like that. It's also packed full of bonus features with engaging gameplay.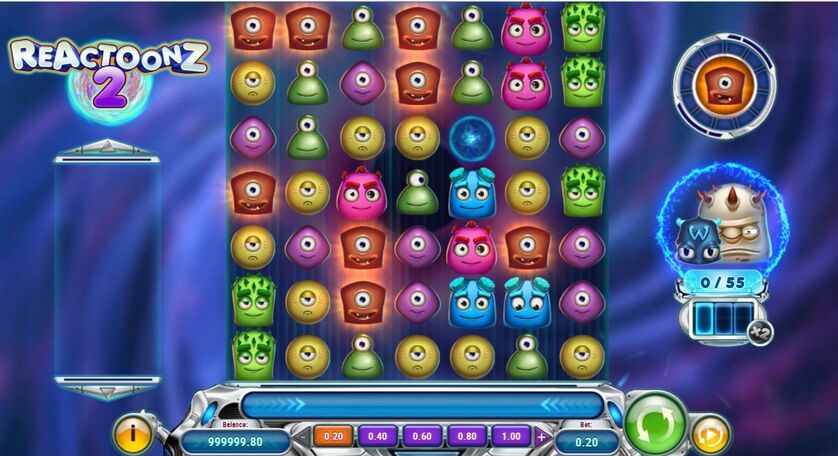 How are the graphics, sounds and animations?
Well, in short, it's great! The background of the Reactoonz is deep space, but it's not all black and devoid of everything. On closer inspection, you notice that the stars and planets move.
There are tones of blue and black, and the light from the reactions impacts the background. A detailed touch which makes Play'n GO an excellent games developer.
The rest of the animations for each larger-than-life-personalty alien and the Gargantoon are second to none. Even the energy transference to the meters is animated.
As far as sound goes, there is a lot going on, but certainly not in an intrusive way. There are the sounds of the aliens, the whoosh of transference and an upbeat electronic tune that plays throughout the gaming session. It's fun, lively, creative and highly immersive.
Highlights of the Reactoonz slot
Reactoonz, released by Play'n GO, might have been released back on 17/10/2017, but this fun game has aged extremely well, with gameplay and features comparable to or, in most cases, better than you will find in games released after Reactoonz.
Reactoonz comes with an RTP set at 96.51%, which is just above the average of most slot games, which should mean that you can expect fair and honest gameplay from this game.
In addition, you also have a high variance that will often give a few smaller wins but keep the bigger wins more spread out, often reserving these big payouts for a feature.
The maximum win for this quirky game is a respectable 4,570x your bet amount, which can start from just 20p and climb to £200 per spin.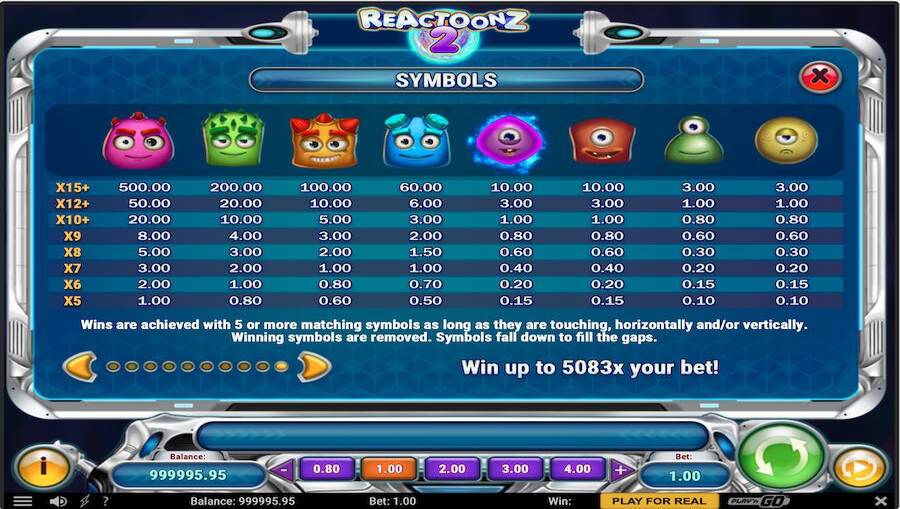 How does the Reactoonz slot work?
At first glance, Reactoonz might look a little complicated, but once you get the hang of it, it just makes sense. The gameplay is fast, as you match 5 or more of each alien type in clusters.
After each win, the symbols that made that win are removed and replaced in an Avalanche from above with new symbols. The hope is that new clusters are formed to start the sequence again.
With every 25 winning symbols you land, it fills up the Quantum Leap meter to the right of the reels.
Once the feature is locked in, it will stay locked until no more wins can be made and will then be released to give you more wins, hopefully. It is possible to lock in more than one feature at a time.
What are the features of the Reactoonz slot?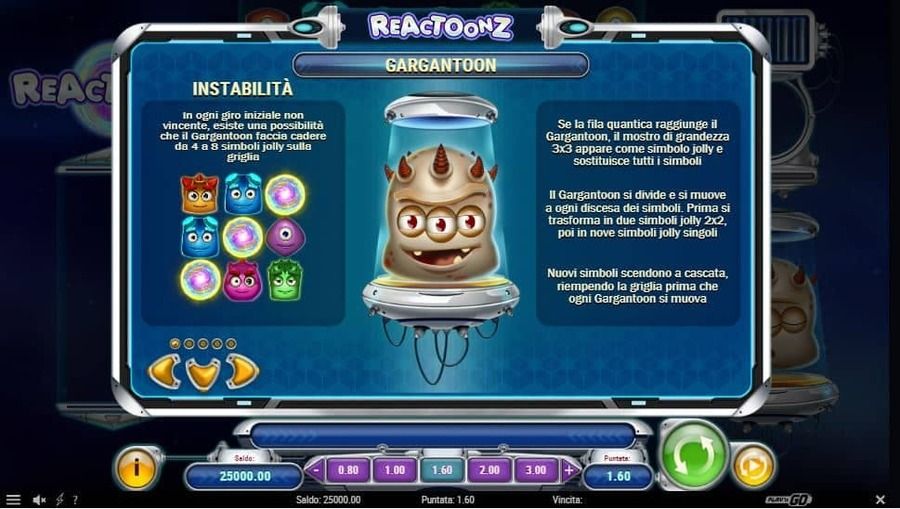 The Reactoonz features are rather unique and take a minute to get used to in the beginning, but once you do, it becomes familiar very quickly.
Quantum Leap features
As you land wins, the Quantum Leap meter is charged with one bar, representing a random feature, for every 25 winning symbols.
Implosion feature: 3 to 6 symbols turn into wilds and destroy adjacent symbols.
Alteration feature: A low-value symbol will be chosen, and all of them will then be changed to another symbol.
Demotion feature: A low-value symbol is chosen, and all tiles containing that symbol are removed from the grid
Incision feature: A big X is carved into the symbols on the grid, creating a wild.
Gargantoon feature
After charging the Quantum Leap feature to the 5th bar, it activates the Gargantoon feature. This feature releases the captive alien as a wild onto the reels, starting as a 3x3 wild, which then on the next cascade turns into two 2x2 wilds and then finally nine 1x1 wilds.
Should you not land a win, it triggers another random Quantum Leap feature. Also, the meters can refill during the feature, allowing for even more wins.
Instability feature
During a non-winning spin, random 4 to 8 wild symbols can be dropped onto the reels, allowing for a possible win.
Fluctuation feature
On each spin, one low-value symbol is chosen as the fluctuating symbol. Should this symbol be part of a win, it will then leave behind 2 wilds in its place.
Conclusion
So, is the Reactoonz slot from Play'n GO still worth the play? After spending quite some time playing it (more time than I bargained for), it's absolutely still worth a play.
I was trying to find something to moan about, but there genuinely wasn't anything. It's a fun, upbeat slot with more than enough special features and animations to keep you engaged and be highly rewarding.
It was way ahead of time when it was released and still is above par today. Just look at the math model for proof.