An Overview of Reactoonz 2
Developed by the famous and established studio Play'n Go and released on 01.01.2020, Reactoonz 2 became an instant hit among many players, primarily due to its fantastic work and exciting engine.
The new version appears kooky as the initial version, if not kookier. With cute monsters, this online slot will give you a run for your money. Are you looking to learn more about Reactoonz 2 online slot? Read on!
How are the Graphics, Sounds, and Animations?
At first glance, you'll notice that the Reactoonz 2 slot looks almost identical to the original version.
But examined closely in plenty of ways, it is. A good example is considering aspects such as the same high-quality animations and graphics.
Most notably, there's an additional collector meter. You can find it to the right of the reels, but besides that, the game looks like the original Reactoonz.
Most notably, the soundtrack is slightly different, and you'll hear several new amazing sound effects as you continue playing.
How Does Reactoonz 2 Work?
Playing Reactoonz 2 is very easy. The game uses similar clusters pays and cascading symbols reel as the original version.
You'll receive your payout if you create a set of 5 or more symbols that match. New symbols will then fall into vacant places to create further combinations.
By collecting several wins from one spin, two collection meters on the right of the reels will fill up. Once they're complete, a trigger-special feature helps you create several monstrous wins.
Reactoonz 2 has both lower and higher-paying symbols. Some low-paying symbols include Yellow/One-Eyed Green, Blue, and Brown/Purple. High-paying symbols include:
Pink
Two-Eyed Green
Orange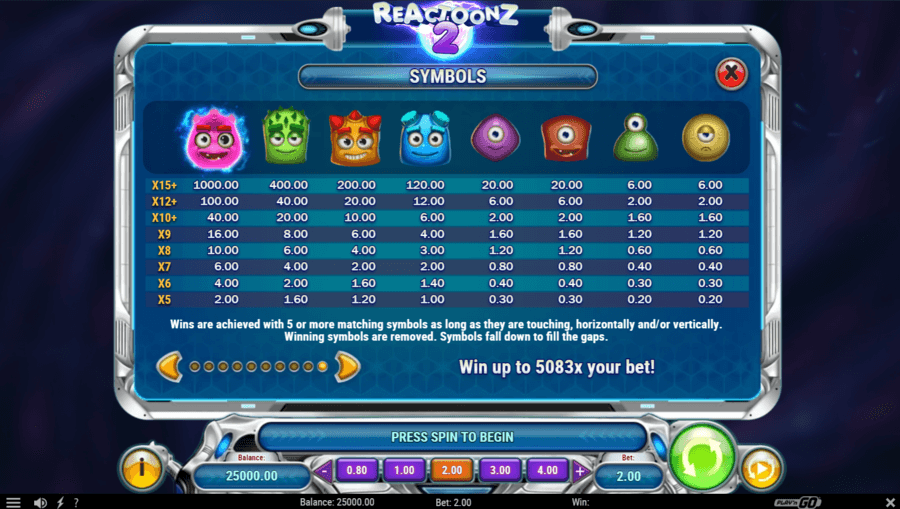 What are the Features of Reactoonz 2?
Reactoonz 2 is one of those feature-packed online slots with four different features speaking in favor of it – Wilds, Fluctometer, Quantumeter, and Wild Fair Explosion.
Wilds were there in the initial version, but they are in Reactoonz 2 to help you win even more. But with four wilds on offer, you may have to be more focused and track your every move.
All Wilds have individual grid-invasion powers, but only three – the three-eyed Gargantoon wild, Electric wild, and Energoon wild substitute for the entire symbols.
Uncharged wilds cannot perform substituting duties of form wins but can transform to electric wilds occasionally.
There's the Fluctometer at the top right corner with the role of collecting one-eyed symbols that appear randomly on your grid.
Should these symbols form a win, it indicates the Fluctometer has an excellent charge, filling up depending on the number of winning symbols landed.
If you want to unlock the full potential and ensure you release up to 3 charged wilds, you must fill the meter to its total capacity (11 charges).
Next is the Quantumeter, which holds 2 wilds – Gargantoon and Energoon. They look somewhat bored, but you'll have to charge their system if you want to poke them to life.
The Quantumeter is already preset with four levels, holding 135 charges, meaning you'll have to collect a certain amount for every stage.
Depending on your level, you can benefit from multipliers: a single 2x2 or two 1x1 size Energoons or the enormous 3x3 Gargantoon.
Once the full features are concluded, and you have two electric wilds on your grid, you'll still have a final feature to help you win- the Wild Fair Explosion. You can find two elements here.
First, two electric wilds neighboring each other explode the entire symbols (except wilds) that sit around them, clearing the grid for a new session.
Since electric wilds aren't close to each other, the entire symbols between and around them, the Wild Fair explosion will destroy them.
Conclusion
The Reactoonz 2 slot is a top-rated online game where many things happen simultaneously.
Reactoonz 2 visuals can't compare to other games. However, this online slot keeps the pace while delivering an excellent gaming experience.