An Overview of San Quentin
Unforgiving. Brutal. Relentless. Prepare yourself for what should be an extremely volatile reel escapade to the notorious maximum-security prison on the San Quentin slot from NoLimit City.
In San Quentin, you'll head behind bars with hard-core convicted felons. Tough guys here include Beefy Dick and Crazy Joe Labrador.
For a high-risk and high-reward amusement ride across 5 reels with Enhancer Cell that unveils Razor Splits, xWays mechanics, Lockdown Spins, and Split Wilds, that can lead to winnings of up to an unbelievable 150,000 times your stake?
Does that sound interesting? Keep reading to discover more about this online slot.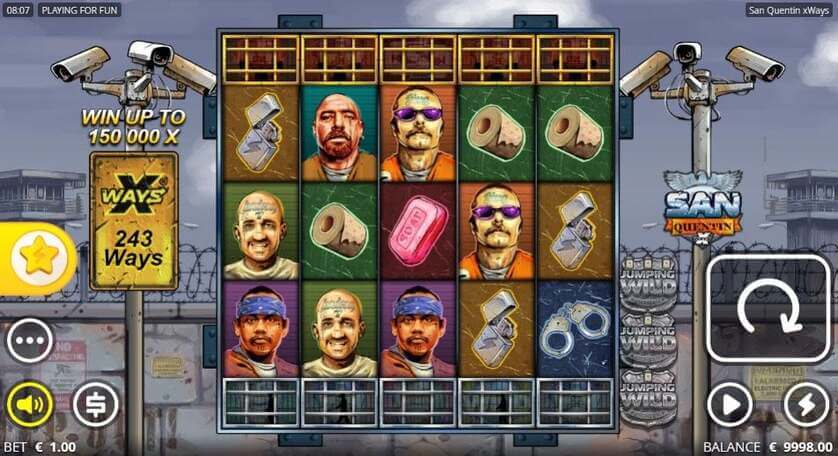 How are the Graphics, Sounds, and Animations?
San Quentin is a beautiful game. The developers created a deep atmosphere with a prison theme.
These themes include surveillance cameras, concrete walls, barbed wire, and guard towers. The animations and graphics are eye-catching, with attention to detail evident in the design.
The sound effects also fit the slot's theme, further enhancing the intensity of the San Quentin slot. Overall, the developers had a clear understanding of their roles.
How Does San Quentin Work?
San Quentin slots begin with 5 reels and 3 rows of symbols, using the win-all-ways system. Here, there are at least 243 ways to win.
The amount or number of win ways expands quickly, though, since the reels can develop to 5 rows, while the symbols can split.
The game has an RTP rate of 96.03% and high volatility. If you are lucky, you can win yourself the maximum winnings of up to 150,000x your stake.
When playing San Quentin, you'll encounter several exciting symbols that can land you handsome wins.
However, some symbols offer low wins. Lower paying symbols include the zippo lighter, shiv, soap, toilet roll, and cuffs. Higher paying symbols consist of dangerous prisoners such as:
Beefy Dick
Crazy Joe
Biker Bill
Loco Luis
Heinrich 3rd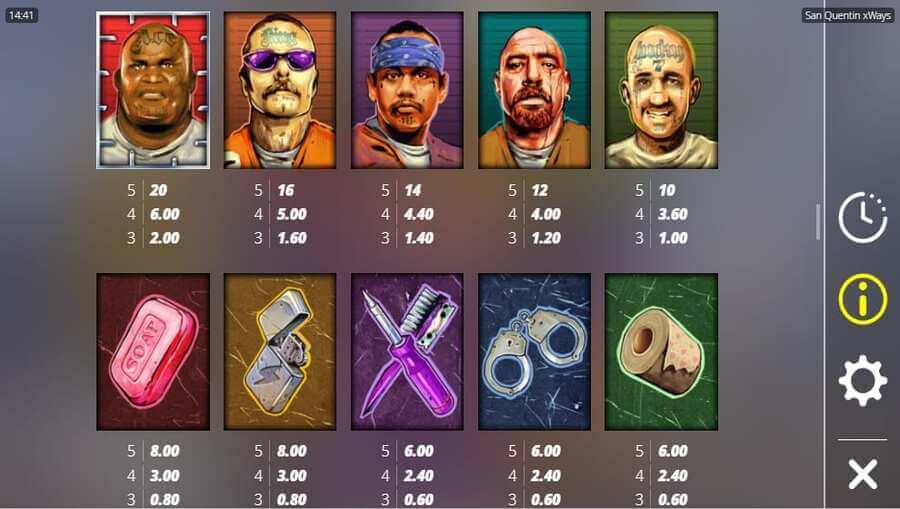 What are the Features of San Quentin?
San Quentin comes with several exciting features that keep the base game moving. Some of the game's features include:
Enhancer Cells feature – At the bottom and top of each reel, you'll find locked enhancer cell positions. If you land 1 or 2 symbols, it will immediately trigger the Enhancer Cells feature. Upon being triggered to open, they'll reveal 1 of the top 5 high-paying symbols – Razor Split Wild, or the xWays symbol.
Split Wild feature – In the San Quentin base game, Split Wilds can land on any reel. If that happens, the Split Wild feature becomes active. After that, the Split Wild splits the entire regular symbols on the same reel but not for itself. That way, you have additional ways to win up to 46,656 possible ways.
Lockdown Spins feature – To enjoy this feature, you must land 3, 4, or 5 prison tower bonus symbols. Doing so will see you receive 1, 2, or 3 starting Jumping Wilds. Before the start of Lockdown Spins, several free spins and a special symbol multiplier are randomly decided based on a convict symbol.
Nolimit Bonus feature – Like other Nolimit slots, you can also find the Nolimit Bonus feature that allows you to purchase your way to San Quentin Lockdown Spins feature. Here, you can enter it with 3, 4, or 5 bonus symbols plus a different RTP for every option.
Conclusion
It's safe to conclude that NoLimit started the new year with a smack. San Quentin isn't only a big release for this highly successful operator. It's a success for the entire industry as well.
And even though the hard-core convict theme seems daring, again, you have a ridiculous 150,000 x potential to win.