An Overview of Benji Killed in Vegas
Once again, NoLimit City continues strolling down the unbeaten path with the recent release of Benji Killed in Vegas online slot. Known for their abstract themes, it's clear that NoLimit City seems to give a hint at how the city of sin kills visitors' Benjamins ($100 bills).
NoLimit City has transported gangster themes and the dead presidents' themes from West Coast vs. East Coast to this exciting and captivating slot effectively.
But is there anything else Benji Killed in Vegas has to offer players apart from its unique theme? You can find out in this review, which covers graphics, high-win symbols, the game's setup, and features.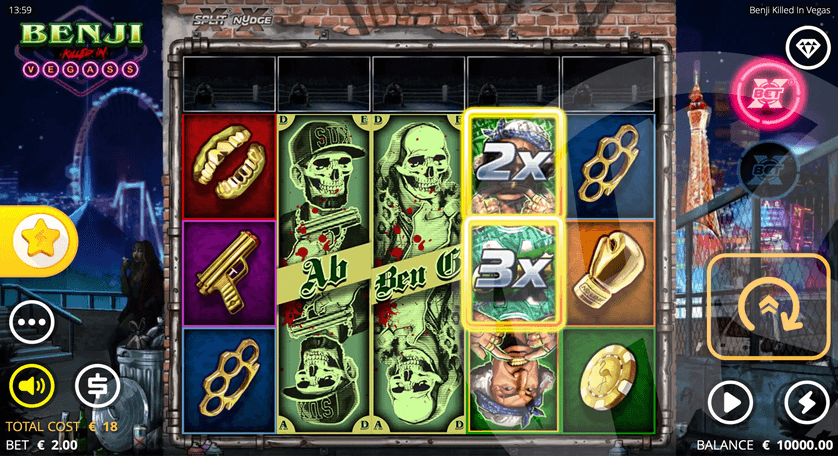 How are the Graphics, Sounds, and Animations?
Today, developers are doing everything they can to develop games consisting of vastly improved sounds, graphics, and animations.
Lately, we are seeing the introduction of entirely new game mechanics that wouldn't have been possible decades back.
Benji killed in Vegas is one of those exceptional online slots with a robust set of exciting features, solid graphics, sounds, and animations.
With everything working out as you'd expect from a top slot, Benji Killed in Vegas will have you spending hours in front of your screen wanting to play more.
How Does Benji Killed in Vegas Work?
Benji Killed in Vegas gameplay isn't challenging to comprehend. This volatile mixed theme slot released by NoLimit City plays out on a 5x3 grid, with 243 default ways to win.
Of importance to note in Benji Killed in Vegas is that the gameplay is that Enhancers in the game upgrade Overlay Multipliers in both tiers of the bonus round and the 2-Dice Re-spin feature.
In Benji Killed in Vegas, the multipliers don't reset in the B.I.G. top tier. The Vegas$ Spins feature can see you win up to 10,000x your stake, another good reason you may want to try this online slot.
Like many other slots with symbols, Benji Killed in Vegas has both high and low-paying slots.
Low-paying symbols (they pay between 0.7X to 1.5X) here include the gun, gold objects displaying knuckles, teeth, and a boxing glove. Higher paying symbols (between 5X to 30X) include G og, Ben G, and Ab.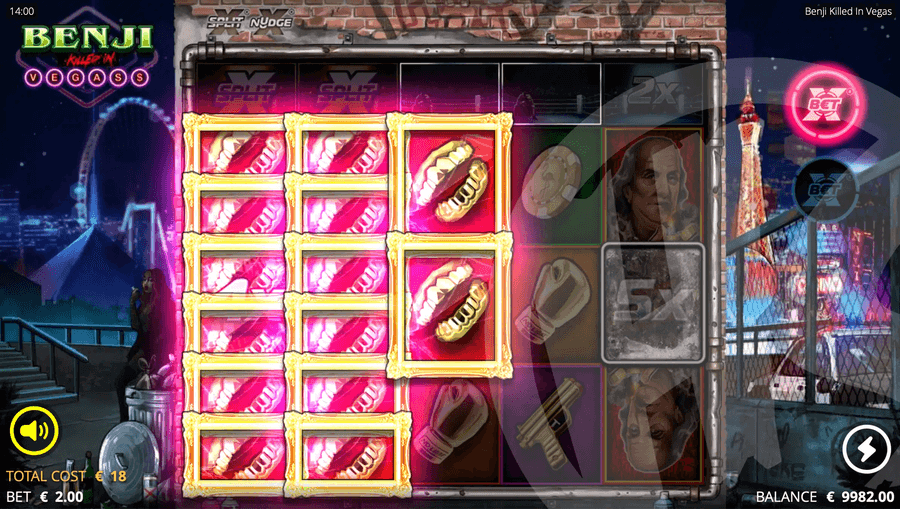 What are the Features of Benji Killed in Vegas?
You can find several other exciting features in this slot that can further boost your winnings. They include:
Dead Presidents Nudge – In this one, if a high-paying symbol appears on the reels and covers it, it will make other instances of similar icon nudge and further expand on the other reels to boost the multiplier above the reels by +1 with every nudge.
xNudge Wild – This one helps to create additional winning combinations. It substitutes for other symbols but not the scatter symbols.
2-Dice Re-spin – Should you land two scatter symbols, Enhancers are activated, while a respin is triggered. The scatter you land turns into a multiplier overlay with 2X and 3X values.
Vegas$ Spins – If you land 3 scatter symbols, the Vegas$ becomes active, and you immediately receive 9 free spins. And if you land other extra scatter symbols, the Vegas$ Spins are upgraded to B.I.G. Vegas$ Spins, where you receive 2 extra spins for every scatter symbol.
B.I.G. Vegas$ Spins – If you land 4 or 5 scatter symbols, you'll have the B.I.G. activated, with the Vegas$ Spins feature awarding 11 and 13 free spins, respectively.
Enhancers – The top enhancers become activated by activating the B.I.G. Vegas$ Spins, Vegas$ Spins, Vegas$ Spins, and 2-Dice Respin features, or xBet Red.
Bonus Buy - You can take advantage of this option by cheaply purchasing several other high-paying bonuses.
Benji Killed in Vegas – Should you achieve the game's potential max win of 10,000x your bet, you get a screen showing Benji Killed in Vegas.
Conclusion
Benji Killed in Vegas is an exceptional slot, and upon testing this new release, it exceeded our expectations.
Besides excellent bonus features and a high RTP, you can expect to find outstanding graphics and music to keep you entertained. This game comes highly recommended.