An Overview of El Paso Gunfight
Powered by the famous NoLimit City, the El Paso Gunfight slot is among the top action-packed slots set in the Wild West.
Choose between extreme or high volatility, and take advantage of a deadly effective respin feature consisting of xNudge multiplier wilds. With an RTP of 96.06% and 8 bonus features, there's plenty to enjoy in El Paso Gunfight.
Enhanced with fantastic animation and graphics, so real that you can shoot the bottles and cups on the shelf, El Paso Gunfight is one slot you'd want to try. Does that sound intriguing? Read on to discover what else this captivating slot has to offer.
How are the Graphics, Sounds, and Animations?
The graphics, animations, and sounds in El Paso Gunfight don't disappoint and meet the same standards you'd expect from other exceptional slots from NoLimit City.
The brown tones and immaculate design are heavily backed up with some clear tentative audio.
Everything seems on point in the El Paso Gunfight slot, making you want to extend your game time.
For anyone wondering why the graphics, sounds, and animations here are excellent, their providers (NoLimit City) have a recording studio.
How Does El Paso Gunfight Work?
El Paso Gunfight slot plays out perfectly on a 5-reel grid that offers as many as 43,334.
The El Paso Gunfight slot lets players choose their "shooting stance" during specific features. One stance provides players a 4-3-3-3-2 format that amounts to high volatility while providing up to 23,334 ways.
The other stance offers a 2-3-3-3-4 format that creates extreme volatility and up to 43,334 ways.
Note that both perspectives feature 216 ways, depending on how many symbols get to land.
You'll earn your wins by hitting 3+ matching characters in the adjacent reels. The entire winning combinations must begin in the first reel.
In El Paso Gunfight, you'll find regular symbols divided into two – high and low-paying symbols.
Lower-paying symbols include 10, Q, J, K, and A. In El Paso Gunfight, the higher-paying symbols are made of four people that include:
Campbell in red
Hale
Krempkau in blue
The bystander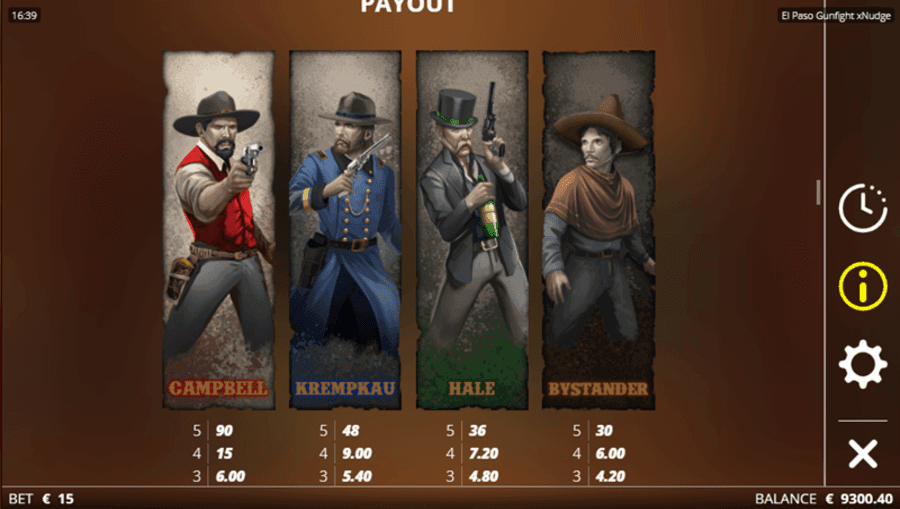 What are the Features of the El Paso Gunfight?
NoLimit City offers players a chance to enjoy several bonus features, all guaranteed to increase their wins when playing El Paso Gunfight. They include:
Wild Symbol – The Wild Symbol helps players create additional winning combinations by replacing all symbols except the scatter symbol.
Stance – With this one, players can choose between 2 different reel setup options – Volatility Extreme and Volatility High.
Stoudenmire xNudge Wilds – This one promises enormous wins as they nudge in and assign multipliers that increase by 1X for every nudge that occurs.
Bonus modes – In this one, you can participate in 5 different Bonus modes, all with unique features to help generate big wins.
Bonus Buy – Here, you can randomly partake in any 5-bonus modes, and the lucky can participate in the most expensive bonus but at a lower price.
Deputy and Marshal Raid – If you land the Deputy, low-paying symbols turn into one random symbol. But if you land the Marshal Raid, the entire high-paying symbols turn into a single random symbol.
Gunfight Spins – Here, players who land three scatter symbols get their Gunfight Spins activated and welcomed with 8 Gunfight Spins.
4 dead in 5 seconds – This feature is activated if all the five characters who participated in the infamous gunfight land on the reels. You can then trigger a respin for significant wins.
Deputy and Marshal Gunfight Spin – Should you land 3 scatter symbols simultaneously, you'll have the Deputy and Marshal activated. You'll then receive eight spins with either high or low payout symbols.
Conclusion
Another incredible gaming by NoLimit City, El Paso Gunfight, is a slot worth trying.
Here, you can participate in various wilds that can create up to 44,440x in winnings. El Paso Gunfight is one of many means to reach the north and gain wins.