A slots tournament, you say? How does that work? After all, when you play a slot, it's just you against the machine, right? You're right, of course. Slot games are great fun, but they are generally a lonely way to pass the time in an online or brick and mortar casino.
But slot tournaments do exist, and they offer real, or should we say reel excitement. Take your normal level of anticipation as you spin and hope for a significant win, and turn it up a few notches. You are now playing against other people just like you.
What is a slots tournament?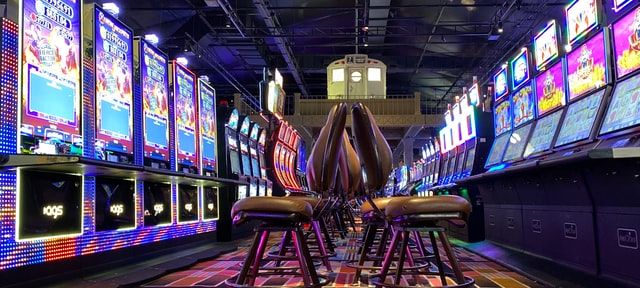 An online slots tournament is a type of social event where gamblers spin the reels of selected slots games and compete against each other. This type of contest generally supports a limited number of selected games, which is why we recommend that you read our casino list thoroughly before making your choice. Some tournaments start as soon as a fixed number of players join, while others start at a specific time. Each gambler gets the same number of free credits to play within the given time frame. At the end, the person with the most credits wins, or different prizes are awarded according to the final scores.
Read our article on What are the Best Live Casino Online Canada in 2022?
How do slot tournaments work?
Slot tournaments may sound complicated, but they are surprisingly simple. You sign up in advance for a casino slot tournament and are assigned a slot number, a certain number of credits and a certain time window to play. You must compete against other players to have the most winnings by the end of the time limit for the casino to crown you the winner.
You can enjoy these tournaments on online slots or in land-based casinos. While everyone will play the same game in a tournament, casinos will vary the game each time. With a little searching, you can find slot tournaments featuring classic Vegas slots, video slots, or even progressive jackpot slot games.
What can you win in a slots tournament?
Well, that depends on several things. The entry fee (if any, some are free), and how many people have entered will dictate. If a hundred people pay $10 to participate, the prize pool is $1,000. Check the tournament rules, because the winner may get the whole $1,000, or it may be split into several paying places. Anyway, winning is winning, and you get the recognition and the right to brag!
What types of slots tournaments?
There are two main types of slot tournaments, and they are classified according to their participation fee. Several casinos need a participation tax, while others do not.
Freeroll slot tournaments: This type of slots tournament has no entry fee, which is great news for players looking for quick and profitable bonuses. However, keep in mind that this means you will most likely not win any real cash prizes. Instead, online casinos reward gamblers who enter this type of contest with free spins, and lots of them. So, if you're lucky, you'll end up winning some cash in exchange for your participation.
Buy-In Slot Tournaments: Some slot tournaments are not free, which means that you will have to pay an entry fee to participate in them. Casinos offer slot tournaments with prizes as low as $1, so you don't have to worry too much about your budget. What's more, other prizes aren't much higher either. Plus, when you pay real money to enter a tournament, you get real money in return. This money is used to fill the prize pool, and online gambling websites only keep a small percentage of it.
What are slots tournament rules and terminology?
When it comes to slots tournaments, there are numerous variations. The terminology and rules for each type are explained below for your convenience:
Sign Up Freeroll: The lightest form of competition, some casinos integrate a sign-up freeroll into their welcome package for new players. This gives you the chance to sign up for free and win real money consisting of part of a small prize pool of $50-100.
Scheduled Tournament: This is your standard online slots tournament that is advertised in advance. It is played after paying a buy-in amount.
Sit and Go Tournament: This term is used to refer to open-seat tournaments with a limited number of seats. Once all seats are filled, competition begins.
Compensated Tournament: Some casinos offer customers loyalty rewards in the form of comp points. Therefore, only dedicated players are invited to participate in these, as they act as a VIP event.
Reloader Tournament: When you participate in a reloader tournament, you have the chance to buy an additional session and play again for a fee. If you are familiar with re-buys in poker tournaments, you will recognize these as very similar.
Extender Tournament: This works in a similar way to a reloader, only in this case you can buy add-ons that increase your final score and thus give you more chances to win the big prize.
One-Shot Tournament: As the name suggests, one-shots are slots tournaments that give you only one chance to qualify for each stage.
Survivor Slots Tournament: This type of casino slots tournament holds several elimination rounds between players, and only the best among them will continue in the race for the final victory.
How to win a slots tournament?
As you might expect, there is nothing you can do when playing a slots tournament to influence the outcome. At the end of the day, you can't influence the results of your spins or maximize your amount, so tournaments are left to luck just like any other casino game. Still, there are certain things you can do to grow your chances of winning. First, keep the reels spinning constantly to make the most of the allotted time frame. It's also a good idea to play all paylines at max bet to spend credits faster and get higher payouts to boost your rank. Check our article on How to win jackpots on slot machines?
How do you practice for a slots tournament?
Fortunately, at online casinos like HyCasino, you can play slots for free - you can hop on the platform, hover over a slot you want to try, and click 'Play for free'. If you know there's a slot tournament coming up, and on which slot, go practice on that game for free.
See which symbols are worth more than others. How do the wild symbols, or the scatters work? Then keep playing for free until you activate the bonus game, assuming there is one, so you can understand its mechanism as well.
After all this, you're in good shape to play the slot tournament. Buckle up, play fast, and win big!